1. Mini broom for desktop
Everyone usually goes to work, and there is no time to organize their desks. After a while, there will be a thin layer of ash on the table. Usually, we choose to use a rag to clean up, but today we use the use of a small broom. We can use the broom to sweep off the dust and other paper scraps on the table, then wipe it with a damp cloth, and the table will be much cleaner.
2. Bed broom(you can call it "bed brush" or "car brush")
Many people usually don't pay attention to the cleaning of bedding, but often the hair that falls on the bed is a lot. At this time, we can use a solid wooden bristle broom to clean the fallen hair. You can choose a handle that is longer, which makes it easier to use.
3. Keyboard cleaning brush(Mini Broom Manufacturers)
I have already shared how to clean the keyboard before, and today I recommend this ultra-mini broom. The shape is like a pen, and the bristles are relatively thin, which makes it easy to touch the gap between the buttons. The bristles are soft and not easy to shed. With a single brush, the dust on the keyboard will be removed.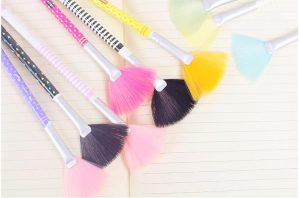 You can buy these products from the broom manufacturers.