What is rubber
Rubber refers to a highly elastic polymer material with reversible deformation. It is elastic at room temperature and can be deformed under a small external force. It can be restored to its original state after removing external force. Rubber is a completely amorphous polymer with a low glass transition temperature (T g) and a large molecular weight, often greater than several hundred thousand.
The early rubber was obtained from rubber plants such as rubber trees and rubber grass, and was processed to produce materials that were elastic, insulating, impervious to water and air. It is a highly elastic polymer compound. Rubber is divided into natural rubber and synthetic rubber. Natural rubber is processed by extracting gum from plants such as rubber trees and rubber grasses; synthetic rubber is obtained by polymerization of various monomers. Rubber products are widely used in industrial or life aspects.
Component
Three parts: handle, scraper, rubber scraper. The handle and scraper are made of stainless steel and plastic. These three components can be easily removed and combined for easy carrying and collection.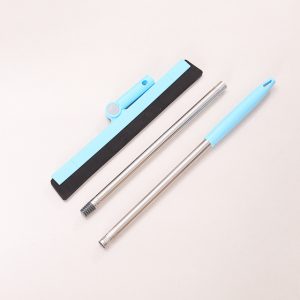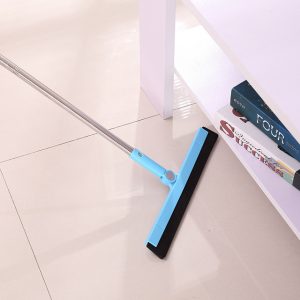 Advantages of rubber broom
1. Sweeping the floor is not sticky, you can sweep the hair and dust together, no ash, easy to clean.
2. Wipe the water without leaving traces, easily remove water stains, oil stains, and seamlessly wipe the water.
3. Wide range of applications, can be used for bathroom sweeping, kitchen decontamination cleaning, floor cleaning, glass cleaning, ceiling cleaning.
4. Lightweight, non-absorbent, suitable for the whole family.
5. The broom head can be rotated by 180°, which can easily clean all corners, saving time and effort.
6. Durable parts are made of stainless steel for durability and corrosion resistance.
7. The strip is made of high quality special glass scraper and can be replaced.
8. Detachable combination, easy to carry; easy to operate.