The twist mop overcomes the shortcomings of all the mops in the past, and is light and easy to handle, easy to clean, completely free of dirt on the hands, away from stains and sewage, and even on the ground debris; the rotating mop has super absorbent, rotating The dewatering bucket attached to the mop uses the principle of centrifugal force, and as long as the pedal is lightly pressed, the water can be quickly smashed. The mop head of the rotating mop is made of special microfiber, and the superabsorbent performance ensures that there is no water stain on the mopping floor.
Advantages of the rotating mop:
1. The appearance of the rotating mop has saved a lot of power for the housewives, and the cleaning tools such as the broom mop have always been indispensable.
2. Compared with the ordinary mop, the rotary mop has stronger water absorption, and it can be used for many people as long as it is rotated.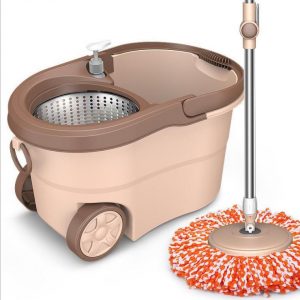 Choosing a rotating mop is an extremely important choice for the family. The facade of the floor is almost completely controlled by it. Grasping the basic principle and using the mop will become a family help. In order to facilitate the next time, you should also pay attention to cleaning and maintenance after using the rotating mop to maintain the mop life.
Rotating the mop to choose seven principles:
1. The handle is easy to take off and not easy to fall off;
2. The mop cloth has good water absorption;
3. Wipe the mop material does not fall off;
4. The mop is easy to wring dry water is not laborious;
5. The mop is easy to remove dirt and does not adhere to dirt;
6. Different needs to choose different functions;
7. The home space storage is not occupied;
8. A small number of a high-end rotary mop, with a labor-saving transmission device.
The mop manufacturers offers a variety of mops, including this one. Welcome to buy.