Some people see that there is so much dust and dirt on the broom that they will be thrown away and buy new ones. The other part will use the hand to pull the hair from the broom head and continue to use it. However, the former is too wasteful, and the latter is not friendly to their hands. Is there no way to save the broom without wasting the broom and without having to use your own hands? In fact, as long as you use your brain, you can figure out a solution.
The first method is to prepare a comb with a sparsely combed point in advance, and then start combing with a combat the root of the dirty broom. In a short time, the hair on the broom can be combed neatly, and the garbage inside. All were cleaned up.
If you don't want to use a comb, you can use other things instead, but you need to do it yourself. First, prepare a mineral water bottle, then cut it from the middle, pick up the upper part of the plastic bottle, and stand up from below. Cut the lid in the direction and cut it to the position close to the lid.
There is also a way to use it before cleaning. Take a garbage bag or old stockings on the broom. When you sweep the floor, the hair will stick to the garbage bag or stockings due to static electricity. When the hair is swept, the hair will be squeezed into one. This method is the most practical and simple.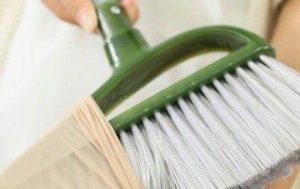 Don't overlook these small details, hair is the most easily overlooked source of pollution in our home. So everyone must carefully clean their hair. Of course, it is even more labor-saving to buy a broom bucket set with comb teeth, without the need to comb the hair and other dirty things from the broom.
At the broom manufacturers, you can buy any mop you need, such as a rotating mop, a twist mop, a spray mop, a cotton mop, and so on.